from ,
just sold a home using HomeLight
Find the perfect Georgetown real estate agent
We analyze millions of home sales to find the best performing real estate agents.
Top Georgetown real estate agents
Georgetown, KY may have 157 real estate agents, but you're looking for the cream of the crop. Homelight analyzes performance data from all of Georgetown's active agents to find you those with the best objective results. The top 3% of Georgetown agents boast impressive numbers: They complete 83.5% more real estate transactions each year than the average agent, and sell homes 83.4% faster.
"Since we lived in another state it was wonderful to be able to find a good realtor without having to travel . HomeLight enabled us to sell our house. Thanks HomeLight!"
Bob S.
See how 14 of the top REALTORS® and real estate agents in Georgetown stack up
Find your perfect real estate agent in Georgetown
Why you need a top real estate agent in Georgetown, KY
Why settle for any average agent when the top 3% of real estate agents can help you save $7,260 more on a home purchase and move a home 2.1x faster than the local average? Top Georgetown real estate agents are more experienced, work more transactions, and make more money on home sales.
Top Seller's Agents
San Francisco's top 3% of agents sell 1.8x more properties than the average agent, and sell homes 49.55 days faster. Even better? A top Georgetown real estate agent nets you 16.2% more on your list price.
Sale Price / List Price (%)
Days on Market
Lower is better
Top Buyer's Agents
The top real estate agents in Georgetown help buy 1.7x more homes than average agents in the same area. Top agents, on average, also save home buyers $12,595 during the buying process.
Sale Price / List Price (%)
Lower is better
Ratings and reviews of top real estate agents in Georgetown, KY
Recent reviews for Georgetown real estate agents and REALTORS

Donia Watson
Bluegrass Home Group
"My husband and I were amazed by Michelle's expertise and ability. She was patient with us when it took us some time to get listing-ready, kept us informed throughout the showing and offer review period, got us a fantastic offer under contract within three (3) days of listing, and made sure we had pl..."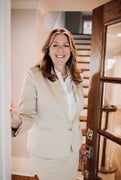 James Glass
Keller Williams Greater Lexington
"Diana was absolutely amazing with building our new home! She made sure my wife and I were taken care of at all times, negotiated to her best extent so we could get the best deal and made sure all requests and all around build was completed in a timely manor. I would recommend her to anyone doing any..."
"HomeLight was very easy to use and gave us a couple of different agent recommendations. We came away with a great new home and couldn't be happier!"
Jeremy G.
"At first we had no idea where to start looking for a Realtor ... but the HomeLight website made this process so much easier for us. And the result is we found our beautiful forever home. Thanks for everything HomeLight!"
Gloria B.
"I live in a city different than the one my property was in so I had no clue what realtor to use. HomeLight made this search painless and effective!"
Jane W.
Frequently Asked Questions
Check out some of
our other

resources for

Georgetown

homeowners
Sell your house
in Georgetown fast
Find out what cash buyers are willing to pay for your
home right now.
When's the best time to
sell my home?
Use housing market data in your city to learn the best and worst months
to sell your home.
Find out what your
home is worth
Get a free estimated value of your home in less
than 2 minutes.
How much commission do real estate
agents make?
Use this calculator and real estate agent commissions data
to find out.
Advice from America's
Top Agents
Get the latest real estate tips and learn how to sell your home faster and
for more money.
Simple real
estate calculators
Use our free calculators to help you make informed financial decisions when buying or
selling a home.
Find your perfect real estate agent in Georgetown, KY