from ,
just sold a home using HomeLight
Find the perfect Guyton real estate agent
We analyze millions of home sales to find the best performing real estate agents.
Top Guyton real estate agents
In Guyton, GA, the top 3% real estate agents buy and sell homes 85.8% faster than their competitors. HomeLight compares real estate agents in Guyton using their objective sales data to identify the top performing agents.
"I would highly recommend HomeLight as a valuable medium for determining and selecting a competent, professional real estate agent."
Kenneth S.
See how 20 of the top REALTORS® and real estate agents in Guyton stack up
Find your perfect real estate agent in Guyton
Why you need a top real estate agent in Guyton, GA
If you're looking for a real estate agent in Guyton, find the best ones who can save more when buying and make more money when selling. The top 3% of the 768 active Guyton real estate agents move homes in under 45 days, 2.2x times faster than the average, and work on 701.76 more transactions than the average agent.
Top Seller's Agents
If you're wanting to save time and cash, look no further than Guyton's top 3% of real estate agents: they sell homes 54.49 days faster than the average agent, and save their sellers 2.9x more money along the way.
Sale Price / List Price (%)
Days on Market
Lower is better
Top Buyer's Agents
Finding the right real estate agent in Guyton can have a big impact on your bottom line. A top 3% agent helps 1.8x more buyers, and can save you $25,210 more on your home purchase than an average agent.
Sale Price / List Price (%)
Lower is better
Ratings and reviews of top real estate agents in Guyton, GA
Recent reviews for Guyton real estate agents and REALTORS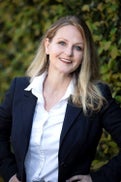 Isaiah Johnson
Keller Williams Coastal Area Partners
"J Lynn was everything and more. This was my first time buying a home and she was with me and my wife every step of the way. I recommend her 11/10 ! She was very informative, knowledgeable, nice and most of all she kept our best interest at heart. Couldn't have had a better realtor than J Lynn she's ..."

Angela Allen
Statesboro Real Estate
"Reached out to Pail about selling my home. He visited the residence...then told me I could only list the sale price in the 180,000s...now I purchased my home 4003 Carolina Trail for 189,000... so I reached out to him after reading the email 24 hours later..did not hear from long story short went wi..."
"HomeLight connected me with the right people which led to a good offer on our home and a fast closing time within just weeks."
Chris A.
"I am so grateful for the referral that HomeLight sent to us.... sold our home by the end of the first day of listing. "
Joey G..
"HomeLight is a way to narrow the field and find the right agent for your house sale... Within 36 hours of listing, we had a contract. "
Frank L.
Find top real estate agents in cities near Guyton, GA
Frequently Asked Questions
Check out some of
our other

resources for

Guyton

homeowners
Sell your house
in Guyton fast
Find out what cash buyers are willing to pay for your
home right now.
When's the best time to sell your
home in Guyton?
Use housing market data in Guyton to learn the best and worst months
to sell your home.
Find out what your
home is worth
Get a free estimated value of your home in less
than 2 minutes.
How much commission do real estate
agents make?
Use this calculator and real estate agent commissions data
to find out.
Advice from America's
Top Agents
Get the latest real estate tips and learn how to sell your home faster and
for more money.
Simple real
estate calculators
Use our free calculators to help you make informed financial decisions when buying or
selling a home.
Find your perfect real estate agent in Guyton, GA